The Potting Shed
Join Martin and Jill on the Potting Shed stage at many of the major RHS and independent flower shows across the country from spring until autumn.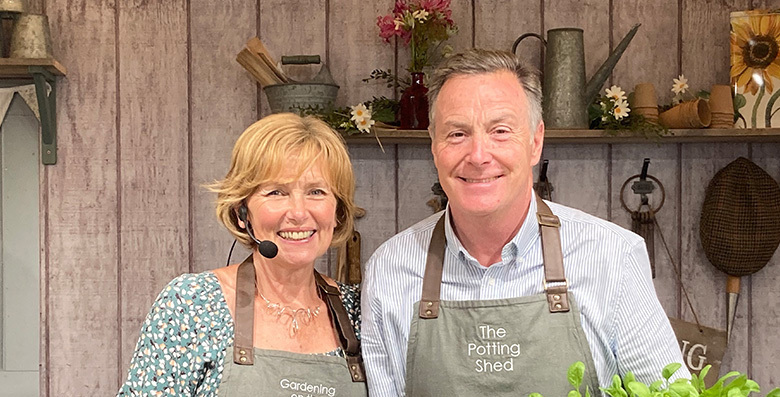 Giving talks and demonstrations they invite gardening experts and celebrity guests to join them to chat about their gardening lives. Many of the nursery exhibitors at the shows love talking about their plants and give demonstrations on the best way to care for them answering questions along the way.
Everything you could want to know gets covered on the Potting Shed stage – houseplants, fruit and veg, container growing and Martin will give you his Top Ten Tips for your garden to make sure you have plenty to do when you get home!
Martin and Jill's joint talk 'Gardening on the Menu' is always popular with Jill cooking up a couple of seasonal dishes live on stage while Martin talks about how to grow the best possible produce in the veg plot. Martin has been known to help with the cooking – not always with the best of outcomes!
A regular member of the team, celebrity floral designer Jonathan Moseley creates some stunning floral arrangements whilst chatting about his garden and extolling the virtues of British homegrown flowers.
During the day there is always a chance to ask questions from a panel of experts so feel free to bring samples of problem plants or just ask us about any of your gardening issues!
The Potting Shed stage is a mobile unit, self-contained compete with lighting and PA equipment. If you are an event organiser and would like further information, please contact us for a chat.