Got a glut of courgettes yet in August's kitchen?
Posted: 14th August 2023
 Martin got a bit caried away with our new raised veg beds this year and planted 4 courgette plants! I did try and warn him but he didn't want to waste the plants! You can imagine we're having courgettes for tea every day in some shape or form at the moment! I'm going to make more chutneys and pickles this year now that we've moved so at least we can make them last over the winter months too.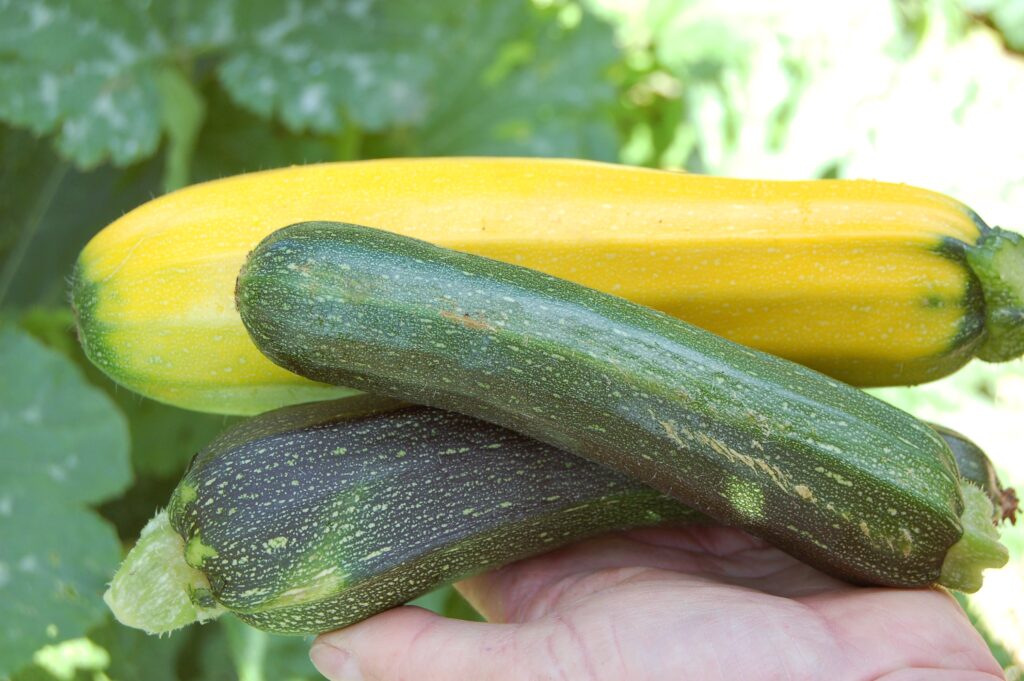 I love making a batch of this particular one as it uses a bit of a glut but only makes a few jars which I can give out to friends to be eaten straight away.
Makes 4 x 450g(1lb) jars. Takes about 10 minutes to make plus about an hour salting and cooling time
As this is a quick cook pickle it is best eaten fairly quickly. It will keep for 3 or 4 weeks but is best kept in the fridge.
35g(1.5oz) salt
12 medium courgettes, mixed colours look great
1 red onion, sliced finely
1 red pepper, deseeded and sliced fine
3 green chillies, deseeded and sliced fine
1 red chilli, deseeded and sliced fine
200ml(7oz) white wine vinegar
75g(3oz) brown sugar
½ teaspoon yellow mustard seeds
½ teaspoon black mustard seeds
2 teaspoons cumin seeds
2 garlic cloves, thinly sliced
½ teaspoon ground turmeric
Glass jars
Sterilize the jars by first washing in hot soapy water. Rinse them clean then stand upside down on a baking tray lined with a clean tea towel. Pop in a cold oven then turn the heat up to 150C/130fan/gas 1/275F. Leave to get up to temperature then heat for a further 5 minutes. Leave to cool. Sterilize the lids by popping in a bowl of boiling water for a couple of minutes.
Slice the courgettes into thin slices, preferably on the angle. If you're using larger courgettes you might want to cut them in half. Put them into a large bowl and add the onions, pepper and chillies. Sprinkle the salt over the vegetables and rub in. Leave to sit for a good half an hour and you'll be surprised by the amount of liquid produced. Pour away then tip into a colander and rinse in cold water. Use a clean tea towel or paper towels to pat the vegetables dry.
Whilst they're drying heat the vinegar in a saucepan and add the sugar, garlic and spices. Stir over a low heat until the sugar has dissolved then bring to a gentle boil and simmer for about 4 minutes. Pour over the courgettes and stir to mix everything together. Leave to cool to room temperature.
Pour into a colander to drain the liquid then carefully spoon the courgettes into your cooled jars, pressing down lightly. Pop the lids on and label.
It can be eaten straight away but is best after a couple of days. Keep in the fridge then serve with pork pie, meats and cheeses and of course some crusty farmhouse bread.