Last of the brussels in February's kitchen
My children will be amazed that I'm posting this recipe as they know my monumental dislike of brussel sprouts. At Christmas I'd always be the one forced to have one on my plate but would end up sneaking it onto Martin's when he was pulling his cracker!
But, someone told me to try roasting brussels and I have to say I've become quite a fan! Any vegetable when roasted will take on a certain sweetness and brussels are no exception. They roast to perfection with crisp, golden and caramelised edges and seem to lose any harsh brussely taste in favour of a mature caramelised cabbagey sweetness!
 How to roast your sprouts
Chop off the woody end of your sprouts and peel away the looser outside leaves. Chop in half or quarters if very large and toss in some oil with added salt and pepper
.
Lay in a single layer in your roasting tray and pop in the oven (220C/fan 200/gas7) for about 20-25 minutes, giving a shake halfway through.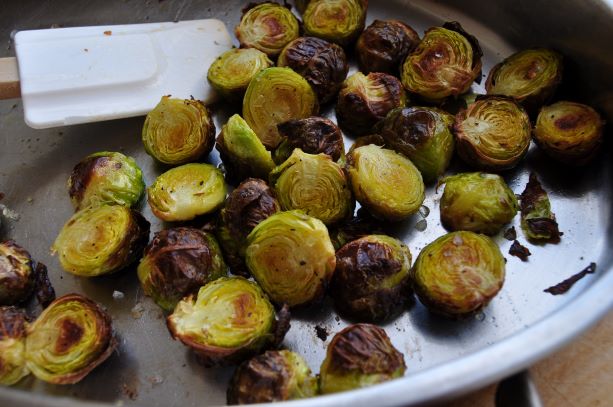 Some extra flavours can be added to enhance the flavour even further –
try adding in a drizzle of balsamic vinegar and a dash of honey half way through cooking
a sprinkle of paprika or cayenne will give a bit of heat
some grated parmesan at the end of cooking is good
herbs work well too, maybe a few thyme leaves and a squeeze of lemon juice
For something a bit more substantial I've made a really quick and easy pasta dish which can be adapted as much as you like. I'm still using pasta sauce from the freezer that I made in the summer but you could easily use a ready prepared one or make one from scratch for this dish
Roasted brussel pasta
Serves 2 Takes about 30 minutes
Approx 150-200g brussel sprouts, halved
About a tablespoon oil
S&P
Couple of rashers of bacon, chopped small or some pancetta
1 leek, sliced thinly
Garlic clove, crushed
A tomato based pasta sauce or tin of baby tomatoes in a thick sauce
Tagliatelle for 2 (or a pasta of your choice)
Toss your Brussels in a good tablespoon of oil and a good sprinkling of S&P. Pop in the oven (220C/fan200/gas 7) for about 20-25 minutes until they are crisp at the edges and golden, giving them a good shake after 15 minutes.
Whilst they're roasting fry the bacon or pancetta until crispy and keep warm whilst you gently fry the leeks and garlic in the bacon fat.
Cook your pasta according to the packet instructions.
Zap the sauce in the microwave until hot
Add the bacon back to the pan and stir through the pasta sauce
Drain the pasta and add to the sauce. Stir through to thoroughly coat the past then gently stir in your roasted Brussels being careful to keep them whole.
Serve immediately with loads of garlic bread! Of course you could add in some chicken or maybe some sausage instead of the bacon or leave it out altogether for a meat free option.
There might be some outer leaves left in the roasting tray – these make great little brussel crisps!