Four ideas for cucumbers in August's Kitchen!
Cucumbers are coming out of the greenhouse thick and fast! We like to grow the small half size ones as they're the perfect size for two but Martin always grows a full size plant as well so we're inundated with them.
They are cooling to eat on a hot day and you can't beat a couple of slices on your eyes for a treat for tired, achy eyes but have you ever tried a foot bath with them? Give this one a go – it's cooling and refreshing after a hot day in the garden, even Martin's been known to try this after a hard day's work!
Cucumber foot mask
This remedy really rejuvenates your feet –
In a liquidiser blitz 1 chopped cucumber along with 2 tblsps of oil and 2 tblsps of lemon juice. Pour into a large shallow bowl and warm slightly in the microwave. Sit back with a cup of tea or a cucumber cocktail for about ten minutes then rinse off.
Cucumber Sandwiches
A more traditional way to enjoy them is of course with a cucumber sandwich but there's nothing worse than one that's gone a bit soggy  – the trick is to dry your cucumber slices a bit first so they don't make the bread soggy so slice them and leave to dry a little on some kitchen roll.
Mix a small tub of cream cheese with a good tablespoon of chopped mint and a few chopped chives.
Spread on thinly sliced brown bread and then layer on some cucumber. To be really fancy I make a triple decker, cut off the crusts and cut them into small squares. Scatter over some more chopped chives.
For an alternative try adding some thin slices of strawberry on top of the cucumber and cream cheese with maybe some basil instead of the mint.
Cucumber Fizz
This cucumber cocktail is perfect on a warm summer's evening and can be made non alcoholic if you prefer
Makes about 6 glasses
½ large cucumber, deseeded (see tip below)
100ml elderflower cordial
3 or 4 sprigs of mint
1 bottle of prosecco
Chop the cucumber into pieces and blitz in a liquidiser along with the cordial and the leaves from 2 sprigs of mint. Pour through a sieve, pushing through with the back of a spoon. Stir the puree together and keep in the fridge till ready to use.
To serve fill your glasses about half way with the puree and top up with your fizz. Stir gently and top with a small sprig of mint.
For a non alcoholic version simply replace the prosecco with lemonade or sparkling mineral water.
Enjoy in the garden on a warm summers evening with friends!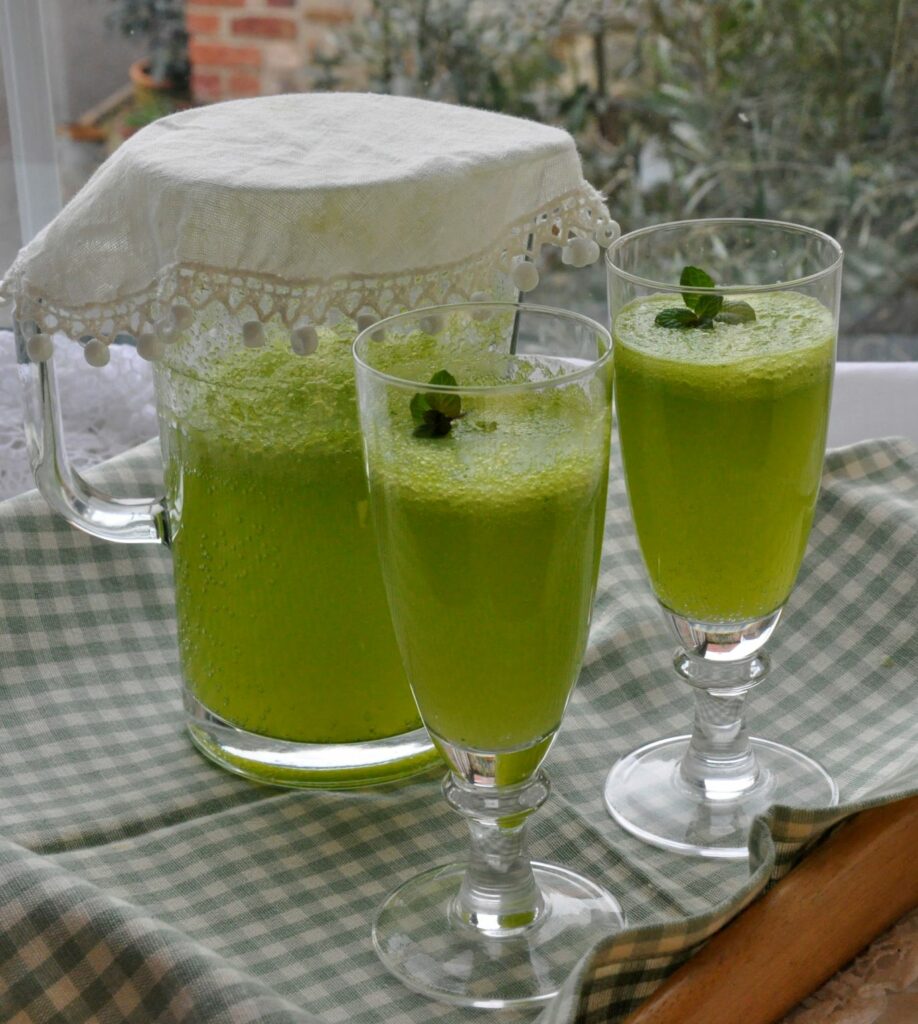 Quick tip
If you're making a dip such as raita or tzatziki using cucumber then it's important to get rid of as much water as possible otherwise your dip will quickly get too watery to use.
I've found a really great method which is quick, easy and not too messy!
Cut the cucumber in half lengthways then cut in half across. Use a teaspoon to scrape down the length of the cucumber and remove the seeds – easy!