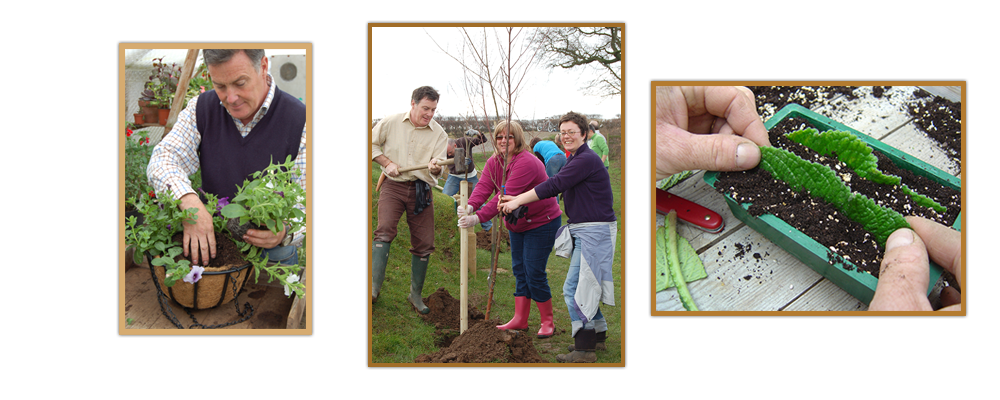 Back to Home Gardeners
Groups
You don't need to be a Garden Club to ask Martin to come to talk to your group! Martin has talked for U3A's, Flower Clubs, Ladies Luncheon Clubs, W.I's, Rotary Clubs as well as Garden Clubs and Societies. Martin can offer a variety of entertaining and informative talks and practical demonstrations and is always happy to answer all your gardening questions.
Some of the topics Martin can bring to your group
My life in gardening so far…
A light hearted look at Martin's gardening career including his writing, radio & television work
Getting started with vegetables
Lots of tips & advice on growing your own
Gardening on the menu
Martin and his wife Jill talk about how to get the best from your fruit & veg plot and how to make the most of your harvest in the kitchen. Sample some of Jill's recipes & take home a recipe sheet.
Creating our North Yorkshire garden from scratch
How Martin transformed a bare plot into a garden for all seasons
Propagation or pruning
All you need to know about either subject!
Easy gardening
How to reduce your workload in the garden!
Containers for all seasons
Whatever the time of year, you can create an interesting planted container. Learn how to keep it looking great.
Undercover gardening
How to get the best from your greenhouse, poly tunnel or cold frame
Behind the scenes as an RHS judge
Ever wondered how the prestigious 'Gold' medal is awarded? Martin takes you behind the scenes at Chelsea and other flower shows
Growing fruit in your garden
Tips on growing and enjoying fruit through the season
Healthy, happy houseplants!
Keep all your indoor plants looking great with tips on care and propagation
Perennials for all seasons
Flowers, foliage and interest all year round
Zoom Gardening Talks
Martin is able to give Zoom talks to your group – either a PowerPoint presentation with colourful images or a live seasonal demonstration from our 'Potting Shed' studio. We also have the Zoom license and can host your meeting. Prices from £125.00 or £150.00 for a joint talk
---
Martin is available to give talks during the day or in the evening and prices start from £125.00 plus expenses. Please call for more details and availability. Contact us on 07966 255857 or email to jill@martinfish.com