Out and about with Martin over the summer 2018 season
2018 show diary
Harrogate spring Flower Show – 26th -29th April – Judging nursery exhibits.
RHS Malvern Spring Festival – 10th-13th May. Show Garden and Floral Marquee judging, plus co-hosting with Mark Diacono in the Grow & Cook theatre. On Sat & Sunday Jill will be joining me for their Gardening on the Menu talk. I'll also be chatting to Carol Klein about her gardening life.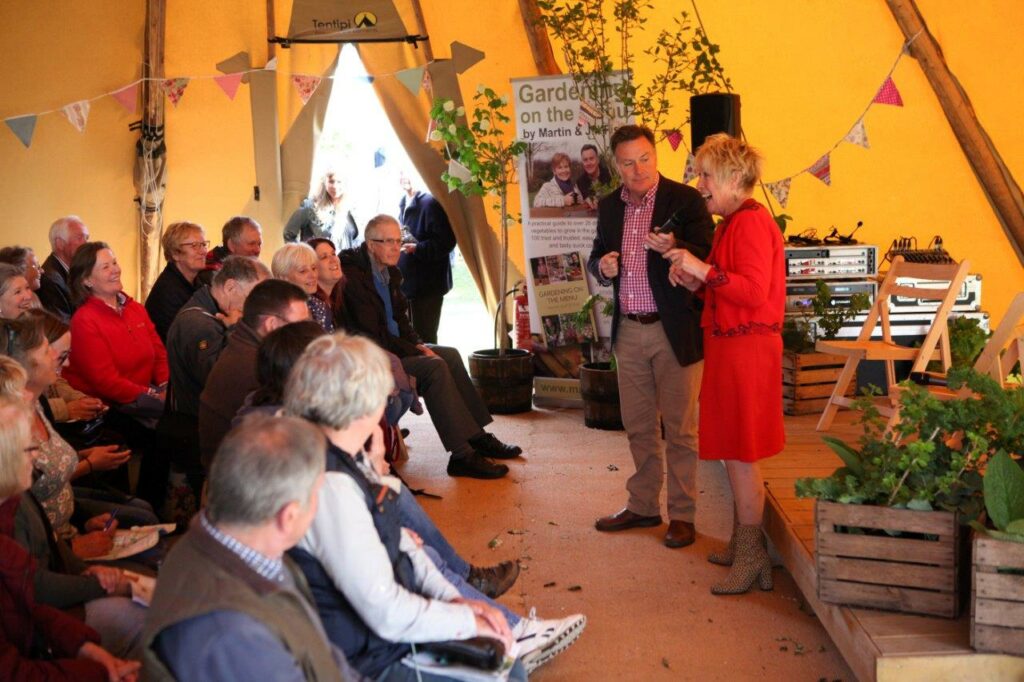 RHS Chelsea Flower Show – I'll be at the show judging in the Great Floral Pavilion.
Gardening Scotland – 1st–3rd June. On the RHS stand as a Horticultural advisor answering gardening questions and on the Q&A panel with the Beechgrove gardeners.
RHS Chatsworth Flower Show – 6th-10th June. Hosting the Garden Theatre where I have the pleasure of interviewing the Duke of Devonshire. Also giving talks with Helen Bainbridge, Jon Wheatley and Jonathan Moseley, Steve Porter from Chatsworth and the RHS team.
Royal Three Counties Show – 15th–17th June . With Helen Bainbridge and Steve Ott we'll be giving talks and answering gardening questions on the Garden Roadshow.
RHS Harlow Carr Flower Show, Harrogate – 22nd – 24th June. Join me and Jonathan Moseley in the Garden Theatre where we'll giving talks, demonstrations and Q&S sessions. Jill will also join me to talk about Gardening on the Menu.
RHS Hampton Court Flower Show – 3rd – 8th July. I'll be there judging in the Floral Marquees.
Great Yorkshire Show – 10th-12th July. The 160th show where I'll be giving talks and demonstrations with Julia Lewis, Sarah Hopps, Helen Bainbridge, Jim Buttress, Jonathan Moseley and others.
RHS Tatton Flower Show 18th-22nd July. Judging in the floral marquee.
Chorley Flower Show – 28th–29th July. Join me with Helen Bainbridge and Steve Ott from Kitchen Garden magazine for the Garden Roadshow.
RHS Garden Harlow Carr – Sun 2nd September – Helen Bainbridge and I will be giving talks and answering gardening questions.
Harrogate Autumn Flower show – 14th–16th September
Malvern Autumn Show – 29th-30th September. I'll be Hosting the Autumn Theatre and Q&A sessions.
Scampston Walled Garden, Malton – Friday 5th October – Running a day course on general pruning around the garden.
Scampston Walled Garden – Friday 19th October – A day course on plants for autumn and winter interest.